Paris, Summer 2001: On the way to teach a class at the Belgian E-Tap Seminar, my flight paused in Paris, and so did I.
In the Montparnasse district ("arrondissement"), I had a narrow hotel, whose view of the street below my second-floor room revealed a hustling little shop of fresh produce, several ambiguous doorways, and a musical trio busking for money in colorful costumes. It was all so colorful I could just spit in a delirium of foreignicity.
In the morning I would carry my Megatar over to Le Bass Shoppe, where the proprietor would express quiet interest, on which I would later fail to follow up most completely.
Last night, arriving late, I'd had a late supper at the nearest cafe, and it could have been the same place where Hemingway and Picaso and Satie and Coco Chanel and Kay Boyle created the world of art once upon a time.
Last night, jet lag fagged and flattened me, but tonight? What to do tonight?
And so it was that, in the little newspaper I'd picked up, and pretended I could read, when I found the notice for Koko Taylor playing at a club just up the main drag, I yelped with pleasure, and almost dropped my teeny-weeny little cup of coffee, and altogether lost my cool and artistic demeanor, right there at the teeny-weeny table on the sidewalk beside the cobblestones of the arty little street. Oh, it was precious!
I wandered around during the day, viewing many olde and beautiful things, tired feet unable to stop me, with Les this and Le that. Even my map grew tired, so after a resty nap I woke and found the day's light fading. Over a daring and bohemian snack from the shops up and down, it was showtime!
Koko Taylor is a blues and rock legend. Her music was introduced to me by a pal back in Dallas, who would listen to nothing else when smoking green hand-rolled cigarettes, and he was always smoking them. I can no longer remember his name, in fact find it difficult to remember much about those days except for two things.
One was that he confessed to me that as a child he'd been terrified of the destroying robot in "The Day the Earth Stood Still", a movie where Michael Rennie, dying, tells Patricia Neal certain words to speak to the robot, Gort, so that Gort would stop blowing up the earth. My friend said that he was so terrified of Gort that he memorized the words. We repeated these words, and I can now remember them, too.
And just in case you ever run into this situation, here are the words you will need:
"Gort. Klatu baratu. Klatu baratu."
Get it? Got it? Good!
Now we won't need to worry about that.
The other thing that I remember is the Koko Taylor song "Wing Dang Doodle." In case you haven't heard it, it's a romping stomping kind of song, a pushy and relentless rocking rhythm, and the words go like this:
"We goinna kick out all the windows!
"We goinna knock down all the doors!
"We goinna romp and stomp till midnight!
"We goinna fuss and fight till dawn!
"We goinna have us a WING DANG DOODLE
"All night long!"
There's more, but you get the picture.
T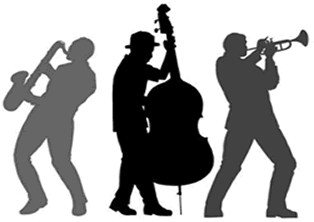 he club was dark, smoky, and the narrow lobby hadn't prepared me for the long bar behind, and huge floor, covered with tables, and full curtained stage beyond. I had whisky. It wasn't long before the curtains were drawn back … and the show was rocking! Koko was belting out the songs.
The French love blues. It's a natchul fact.
Before long, the whisky took more and more effect. I was yelling and hooting. So was the rest of the crowd. It was a lot of yelling and hooting. A whole lot of yelling and hooting. The entire room was shaking. The band was weaving back and forth, and the sound bouncing from the walls and ceiling in the absurdest manner.
Everything became funny. Funny, funny, funny.
Everyone around me was talking. I was talking. We were all talking. We were all laughing. Was I speaking French? Talking now! Did they speak English? Couldn't say. Didn't matter much. Talking, talking, talking.
I recall, much later, weaving my way in the chill night air. These streets stay open late, bright blinking neon, though the little shops were dark, shut up tight.
There was a late dinner of coffee and mussels, at a bright shop on the corner. The proprietor was Belgian. The mussels from Brussels.
Somehow I made it to my room. The circling night faded slowly away. I slept.