Marine on St. Croix, Minnesota, May 18, 2017 — Jerry Lefevre was two grades older than me in High School. He bought a Chevrolet. It looked much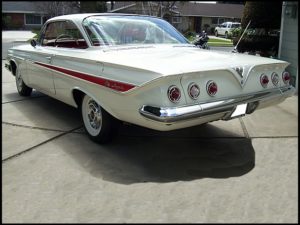 like this picture, except that it just wouldn't do.
Not according to Jerry.
The problem was the red panel. Jerry thought it was not cool.
He had the red panel painted white like the rest of the car. Therefore I cannot now find a picture to show the car. Perhaps it was the only one of it's kind.
As was, in my eyes, Jerry.
Gravelly voice even as a teen, speaking in short bursts of [Read more…]