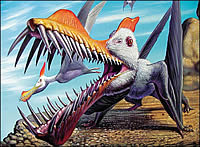 Interior of Mexico, this week: Maybe our myth and memory of long ago is better than we think.
Archeological discoveries in Mexico made recently report that fossils of the Pterosaur, a flying lizard from the same period as dinosaurs, actually had wingspans up to 60 feet! Thank about that. It's lots bigger than a small airplane. It's longer than a bus.
The pterosaur was much like a huge bat, with membrane-thin wings and hollow bones. It's also called Quetzalcoatlus after the 'Feathered Serpent' of the Aztecs.

I don't know what you think, but it sounds like a dragon to me.
Perhaps the dragon is not such a mythical beast as we've been told. Perhaps it is, instead, a dim and ancient memory, deep inside us, and in moments, seen clearly.