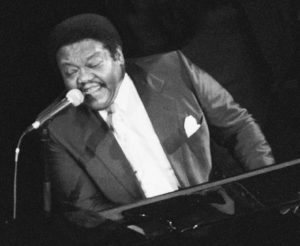 MB Corral, Wichita Falls, 1959 — Well, the way it was, was that Fats Domino was real popular when he was still touring around after his big 1956 hit  ("Blueberry Hill")  which had done so well, and so he was coming to the MB Corral in Wichita Falls on Friday night..
Me and several high-school friends had cars and money enough, so we decided to go hear him. And a fair amount of beer was involved. There was me and Billy Ray Johnson, and some others, and Tony Haberman. The music was good, we were listening to a famous singer, and for some foolish reason they were serving us beer there at the MB Corral.
So naturally I got a teensy bit tipsy, or maybe a tipsy teen topsy, or maybe I was actually just drunk, but I was able to navigate to the men's room, once it dawned on me that I needed to go fairly urgently. It took a fair amount of concentration. I think a couple of the other guys went to the men's room, too.
Once in there, it was small and kind of crowded, a bunch of Wichita Falls guys we didn't know standing around waiting for a turn, and several Mexican guys there talking Spanish at about a hundred miles an hour. My high school Spanish couldn't follow at all, so I didn't try, especially since it was finally my turn and I needed all my focus to stand in front of the urinal.
One of the Mexican guys, about my own age, was standing to my right, and I think he introduced himself and was blathering about something (in English), but I couldn't follow it.
And then he asked me, "Do you know Lee Perez?"
I shook my head to indicate that I did not know Lee Perez.
BAM!
I found myself bouncing off the wall.
(It seems that this very fellow was Lee Perez, and — annoyed that I didn't know him, probably after he'd introduced himself — so he'd sucker-punched me. And I'd never seen it coming.)
Panicked, I ran out of the bathroom, and found my way back to our table, along the way recovering my decorum and walking calmly.
Once seated, I realized I was still kind of exposed, so I reassembled my various parts and zipped up my pants.
I would surely have been embarrassed, running out into the main room like that, but blessed alcohol dimmed my dismay.
I wasn't particularly hurt, just my ego feeling bruised that I'd been so fearful and that I'd run away.
When Tony Haberman return to the table, it seems he'd seen the whole thing, and being a loyal friend, he had in turn sucker-punched Lee Perez, who was last seen sitting against the back wall of the bathroom. Thank you, Tony Haberman.
And that is what I can report about the Fats Domino concert at MB Corral. I don't remember  much more about it. I got home somehow.
I do not remember what Lee Perez looked like.
But by golly I remember his name.