Marine on St. Croix, Minnesota, May 18, 2017 — Jerry Lefevre was two grades older than me in High School. He bought a Chevrolet. It looked much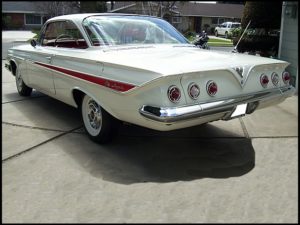 like this picture, except that it just wouldn't do.
Not according to Jerry.
The problem was the red panel. Jerry thought it was not cool.
He had the red panel painted white like the rest of the car. Therefore I cannot now find a picture to show the car. Perhaps it was the only one of it's kind.
As was, in my eyes, Jerry.
Gravelly voice even as a teen, speaking in short bursts of phrases. Just as his father did. His father had a title company that faced the courthouse square, always seemed distracted, busy. His mother, Elwyn, was warm and accepting, and had a bemused acceptance of everyone around her. Her family was named Bragg; they were all like that.
Kids
Even before high school, I knew Jerry fairly well. My mother had got her own house with new greenish aluminum siding, near my friend Donny Burkman's house, not far from the cemetery. So walking home passed me by the Lefevre's house. When television invaded our little town, soon we stopped most every day, because if we walked quickly, we could catch the Captain Video show, a science fiction epic featuring a dreadful robot, whose name was Tobor, which is robot spelled backwards. We were mesmerized.
Because the Lefevres were neighbors to me and Donny Burkman, Jerry and his younger brother Larry, and even younger sister Mary, all figured in adventures of the time, such as my "shirtless shirt" escapade,  and the Sleuthhound Club. One day at school, Jerry told me my epidermis was showing.
I was horrified, and scurried off to the bathroom to fix the problem, but couldn't find the problem.
I worried and worried all the way home. When my mother, who was a nurse, came home from her work, she put my mind at ease. And of course, then the next day, I was able to torment some hapless schoolmate, in turn.
This may have been the first thing that I learned from Jerry, who was to become my unwitting mentor.
High School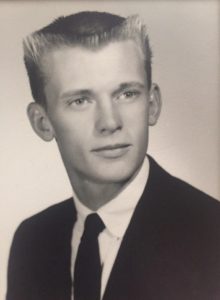 Especially when we got to high-school. Although I was two years younger, and not cool in any way, Jerry seemed OK with me being around. He had a roll-top desk in his room that I thought super.
And I recall sitting at that desk with a magazine (Time? Saturday Evening Post?) which featured the first Volkswagen advertisement. Big white page. Tiny little black car. Down below, in rather small letters, the caption "Think Small."
Jerry had pointed out this ad to me. And, as it turns out, this ad is still famous in advertising books. I'd never realized that advertising was … interesting. And I still see it clearly in my mind, because of that day.
I think he didn't much like to be *seen* with me. After all, he had a reputation to consider.
Still, when I fixed up the basement at our new house — meant to be a bomb shelter, but appropriated by me as a private hideout, with blue and orange walls, and my special sound system — he thought it was super, and for my birthday he introduced me to the unique sound of Miles Davis, with the gift of Miles's "Porgy and Bess" album.
I can still see the dim space of my beatnick hangout, the scent of the concrete and paint, a dampness in the air, and the strains of "Here Come The Honeyman" from Miles muted instrument, from Porgy and Bess, going round and round and round.
And slowly, with some help from Jerry, I began to develop an occasional and intermittent veneer of cool, as best I could.
Into the World
And then the end of high school drew near. For me. Jerry had graduated, and as summer approached, he was working in Wichita Falls at a department store. He arranged mannequins and made up store window displays. One day I was in Wichita Falls and stopped in to see what he did. I found him in a back room, where he was standing beside an empty coke bottle on the concrete floor. He held a cigarette level with his shoulder.
"Watch this," he said.
He dropped the cigarette. It went into the coke bottle.
I gaped. (Later he explained to me that the powerful lamp illuminating the room cast a shadow of himself, the cigarette, and the coke bottle, and through some arcane geometry of the shadows, he had worked out how to align the cigarette high in the air with the tiny opening of the coke bottle. It was magic.)
But, on that visit, I had business to discuss. I was about to graduate. My class was going to go on a bus ride to someplace, for the senior trip. But I had other ideas. "What about going to the Seattle Worlds Fair?" I asked him.
"Good idea," he said. "We'll take camping bags, and a lot of lettuce and other cheap food. See a lot of different states. Come back down the coast."
This conversation that afternoon was to presage, and later provide, a future in which I came to live for many years.

Because in fact we went on the road, our trip unfolded, our great adventure to visit the Space Needle in far-away Seattle, including being only two feet away from both of us being killed in Canada.
And on the way home, driving down deserted Highway 1 along the coast, we came at last to San Francisco, and I saw the city I would come to love, and even the street where I would live for a part of my twenty years there.
College
However, years before I grew into my future unknowingly created on that road trip, I went off to college in Denton Texas, and there a friend gave me a book of photographs of San Francisco, and I saw again the streets we'd visited. One of the photographs showed people standing outside an apartment in which I would live, several years later.
While away at college, I saw Jerry only infrequently. However, when I became an "artiste" and tried writing stories, rather by accident Jerry saved my bacon, and made me a 3-day celebrity.
The Writer
On a trip home, over beer, Jerry told me some funny stories about a roommate he'd had in the fraternity, a guy named Coleman, and some weird things about a cat. This became my story "Ralph the Cat," which got into the literary magazine in spite of everything. Then I was real cool.
But maybe more important … I've been writing ever since. Eight non-fiction books, three unpublished novels, 40-50 short stories (also mostly unpublished), magazine articles, hundreds of online articles, at least five shelf feet of manuals and technical documents, thousands of advertisements, and over 500 micro-stories right here. Including this one. And later today, I'll be writing an ad for a gym … because I can.
Did these decades of writing spring from that one success? A cat and a roommate? Did it manifest from Jerry's off-the-cuff stories that day?
How could I say it didn't? Best I can tell, the man has created many of my life's turnings.
Thank you, Jerry.
Seeing Something New
On that same trip home, I visited him at his cool apartment in Wichita Falls — he had an inexplicable skill at finding apartments that were unique, and always ineffably cool — he was explaining to me how paintings work, for he was now painting large canvasses. He showed me how the eye is led here and there by the shapes and colors.
And I got it.
For the rest of my life I have understood and appreciated how fine art leads the eye, and how advertising layouts do the same thing. Because in just a few of his halting, growly-voiced phrases, and pointing here and there in the canvas that day … he taught me how to see. Something new.
He also taught me to notice the color of the light, how quickly it changes at the end of the day. In the space of a minute, the color of the light can change hugely. And I have enjoyed what he taught me to see, for all the rest of my life. Seeing the light itself; watching it change.
A Psychedelic Interlude
Perhaps the last time I saw him was when I took a college friend, a young woman named Kit Thorne, and with my parents went to see Ram Das, then simply known as Richard Alpert (Timothy Leary's associate), who was speaking at Midwestern University.
Jerry was at that time teaching an art class at Midwestern, and so perhaps it was not so surprising to learn that Mr. Alpert's peculiar behavior during his talk was in large measure caused by the LSD that Jerry and he had ingested earlier in the day.
Women
Finally, at age 26, all on my own, I figured out how to get on with women. But up to that point, I was the world's worst Romeo.
And from high-school through college, Jerry's skill with women baffled, confused, and amazed me.
On one occasion when my parents were away and I held a party for friends, Jerry had sequestered himself and a lady friend in my basement, and after all the other girls had gone home, Jerry and his girl were still down there, and several guys and I listened in secretly on the intercom. There I heard some of his amazing dialogue.
Which didn't explain a damn thing.
I just had no clue.
A Great City
Beyond college, we drew further away, and he went off to New York City, with the idea of becoming a famous artist, I think. And perhaps, since that time, perhaps I have never seen him again. But the things I learned from him are still with me, a part of my life. Some are important. Some are silly. That's been important, too.
As a demonstration, here is a song he made up, that I liked, and sang from time to time, over the last five decades —
Peat moss, certainly, everybody's fine.
Everybody knows Al drinks white turpentine.
Sally, Sue, and Nelly, singing in the hall.
Cornflakes is a meal in itself, with a fuzzy tennis ball.
Sally, Sue, and Nelly, singing in the road.
Cornflakes is a meal in itself. A horny is a toad.
Now maybe you wouldn't think this song is not a great contribution to my life. If that's so, how come I can still sing it, fifty years later?
All of it. All of it was important to me.
As best I know, he did not become a famous artist in New York, in spite of creating huge canvasses. He sent me a couple of photos in the mail. These things reached from floor to ceiling.
Then we lost track.
A Ship Fading Into a Blue Horizon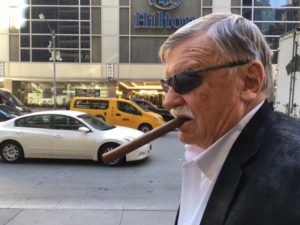 I did phone him, some twenty years ago. I located him in Minneapolis, St. Paul area. He had been teaching art, but now, he told me he had a business buying and selling semi-precious stones. He was preparing for a trip to a gems show. He was explaining it to me how he really liked the stones, it was great, they were very beautiful and fascinating and whatnot. He seemed brusque, and perhaps apologetic, defensive.
Thinking back, I think that he was in fact vaguely apologizing. Perhaps he did feel defensive, perhaps because he had not become a famous artist. As I'd rather expected he would. He was engaged in commerce, as was I. And now, I slowly realize … that perhaps I was also important to him.
But now, he's gone.
From a friend of a friend, I have received word that he died —
"Jerry LeFevre passed away this morning. His sister Mary got the phone call where she lives in Henrietta."
Jerry Wayne LeFevre
Age 75, of Marine on St. Croix, Minnesota.
Died May 18, 2017. Preceded in death by parents, Wayne and Elwyn. Survived by wife, Jennifer Gross; siblings, Larry (Sandra), of Waco, TX and Mary (Mike) Wines, of Henrietta, TX; nephews, Bradley Wines, Matt and Stephen LeFevre. Jerry taught art history at the School of Associated Arts, Minnetonka School for Arts and Minneapolis High School. He also taught drawing and painting and had art exhibits in Minneapolis, New York, and Texas. He was interested in gems and minerals and ran a business with his wife called Rainbow-Artifinds in St. Paul. He was a multitalented person with interests in gardening, fishing, cooking, birds, music and always art. Memorial Service 2:00 PM, Saturday, June 3 on the St. Croix River-20201 Quinnell Ave. N, Scandia, MN 55073