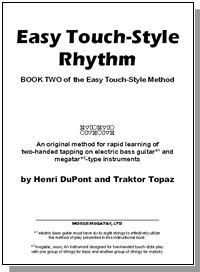 Mount Shasta: After my meeting with Henri earlier this year, in a far-away clime, we discovered that our second method book was written in only four days.
Started in a small hotel in downtown TianJin (about an hour's drive north of BeiJing), once the writing was complete, then the real work began. It required about two months to then produce the 300+ measures of music, string graphs, and other illustrations, and to edit and remove errors and typos.
But now it's done and available for sale on the EBay Megatar Store. This is Book Two of a series of six, and it's entitled "Easy Touch-Style Rhythm."
So if you've a hankering to play bass and walking bass, using our simple and powerful two-handed tapping method, grab yourself a copy and go boogie!