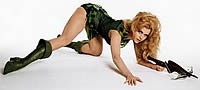 A Movie Theatre near Picadilly, London, 1968: Funny how memories come back to you. Pointless little things, a turn of phrase, the way some trees looked against the clouds on a dim horizon.
One of the moments in my life that I remember, from time to time, from 40 years ago, and still laugh each time, was a snippet of conversation overheard, when I first sat down in a theatre in London, to watch the film Barbarella.
The film had not yet begun, and I gradually became aware of the two guys in the row right behind me. Being American, it seemed to me that their cockney accents were thick as bad pudding.
Said one: "I'm going to the confession, mate."
Said the other: "Get us a Toblerone, eh?"
"Save me seat?"
"Guard it wi' me life, I will!"