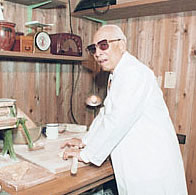 Osaka, Japan, January 6, 2007: Today at age 96, Ando Momofuku, the inventor of Instant Ramen, passed away. While a student at Ritsumeikan University he learned to operate a clothing business, but on a cold night shortly after World War II, he came upon a long line of people who were waiting to buy fresh ramen (noodles) at a black market food stall. In an epiphany, he came to believe that the world would have peace when people had enough to eat.
So in 1948 he began learning the food business, and ten years later developed instant Chicken Ramen, which he thought would provide better nutrition for soldiers in the field. His company grew and grew and grew. Two years ago, his company developed vacuum-packed noodles for Japanese astronaut Soichi Noguchi to eat on the U. S. space shuttle Discovery. When interviewed, Ando said, "I'm happy I've realized my dream that noodles can go into space."
One small step for man, one giant leap for noodles. But perhaps more important is this: We don't know who invented beans and rice, and we don't know who invented spaghetti, but we do know who invented Instant Ramen. So for all the students of the world, and for those of us who once needed very affordable food for a simple meal, we thank you, Ando Momofuku.
In this simple way, you've changed the world.