Asheville, North Carolina, August 22, 2005: Robert Moog, 71, the inventor of the synthesizer, died today at his home, from an inoperable brain tumor. A childhood interest in the theremin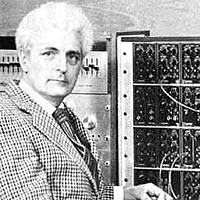 led him to create sound modules, creating the first synthesizers used in early electronic recordings such as 'The Nonesuch Guide to Electronic Music.'
Early recording artists such as Walter Carlos — later Wendy Carlos — and two musicians I met in a Los Angeles Warehouse, Paul Beaver and Bernie Krause — brought synthesized sound into the radio landscape, where it has become the background music for our lives today and into the future.
Despite hobnobbing with headliner musicians world-wide, Moog remained quite humble about his place in the world. For example …
"I'm an engineer," said Bob Moog. "I see myself as a toolmaker and the musicians are my customers. They use the tools."
The instrument allowed musicians to generate a range of sounds that could mimic nature or seem otherworldly by flipping a switch, twisting a dial, or sliding a knob. Other synthesizers were already on the market in 1964, but Moog's stood out for being small, powerful, and versatile.
The arrival of the synthesizer came as just as the Beatles and other musicians started seeking ways to fuse psychedelic-drug experiences with their art. The Beatles used a Moog synthesizer on their 1969 album, "Abbey Road"; a Moog was used to create an eerie sound on the soundtrack to the 1971 film "A Clockwork Orange".
Keyboardist Wendy Carlos demonstrated the range of Moog's synthesizer by recording the hit album "Switched-On Bach" in 1968 using only the new instrument instead of an orchestra.
The popularity of the synthesizer and the success of the company named for Moog took off in rock as extended keyboard solos in songs by Manfred Mann, Yes and Pink Floyd became part of the progressive sound of the 1970s.
"The sound defined progressive music as we know it," said Keith Emerson, keyboardist for the rock band Emerson, Lake and Palmer. Since Moog's breakthrough, synthesizers developed which have created elements of 1970s funk, hip-hop, and techno.
In January of 2001, when Mobius Megatar introduced our new touch-style basses at the NAMM Show in Los Angeles, when I escaped for lunch one day, I noticed a man sitting at the counter. It was Robert Moog. I nudged the fellow next to me and pointed out Mr. Moog. "You see that guy?" I said. "He invented the synthesizer, and that means that he basically created the sound you hear all around you, in rock and country and Broadway shows and most everything on the radio."
After wolfing my meal, I stopped to introduce myself to Moog. "I'm Traktor Topaz," I said. "And I just wanted to thank you — on behalf of the Universe — for the wonderful contribution you've made to music and to our world."
"Well, thank you," he said. Then he returned to his lunch.