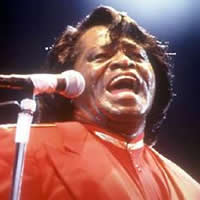 Cabana Hotel, Dallas, 1966: Sometimes I was a desk clerk, and twice a week I filled in for the night auditor. This is the cashier who works the midnight shift and balances the day's charges for the rooms and restaurants and the bars in the hotel.
It was a fancy hotel. Sometimes famous people stayed there. This particular night it was James Brown and his entire band, the Famous Flames. He came strutting through the lobby, looking just like he was 'spozed to. No cape tonight. Disappeared into the elevators.
Later, lounging on the huge round sofa in the lobby, I had the opportunity to talk with a couple of the band members, who were relaxing after the gig.
"How does he write those songs?" I asked.
They told me.
James Brown had a system. It went like this —
First they'd rent a recording studio. Mr. Brown would have just the drummer and the bass player mess around until he heard a groove he liked. Then he'd ask them to lock in that groove.
Then they'd build up from the bass groove, just going up the frequency range. They'd add rhythm guitar atop the groove, and then Brown's voice atop the rhythm guitar. And last they'd lay the high-pitched horns onto the very top. Listen to one of the songs; you'll hear it.
He would mess with the rhythms and the harmonies, until he thought maybe they'd got it right.
But then, the test. It worked like this. They'd open the back door of the studio, and recruit a half-dozen kids age five to eleven, and they'd bring these kids into the studio. They gave the kids a dollar to "stand right there." Then James Brown and the Famous Flames played the song.
If the kids, all on their own, started dancing, the song had made it. It would be recorded.
Apparently, every James Brown song you ever heard … made the kids dance.
What wonder then that it made us all want to dance? Because we are all kids.
Dying this week from pneumonia and congestive heart failure, in Augusta, Georgia at age 73, the Godfather of Soul is gone. Our world remains the richer for his time here. Whose life doesn't have the flavor and the rhythm this man brought into our world?
Makes ya want to … break out … in a … cold sweat!
Hunh!