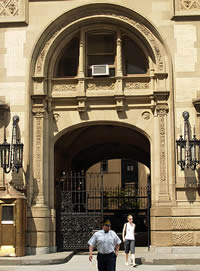 New York, December 9, 1980: In the evening, John Lennon returned from the recording session at The Record Plant in New York. The limosine let him out in front of The Dakota, the gothic stone building pictured in the movie "Rosemary's Baby", and as he and Yoko Ono approached the building, Mark David Chapman called out "Mr. Lennon?" and shot Lennon five times with a .38 revolver.
Lennon was hit in the torso and the back. He called out, "I'm shot," took a few steps, and collapsed. When policed arrived, they found Chapman standing nearby, the gun on the ground. A building security guard asked Chapman, "Do you know what you've done?"
Chapman replied, "I just shot John Lennon."
Police rushed Lennon to the emergency room at the Roosevelt hospital, but he could not be revived.
Something died for many of us that day.
The sound of the Beatles, coming from the radio, startled us, back in the day. Those were college days for me. But perhaps you remember when you first heard their harmony, the enthusiasm, the sound was new and fresh.
A memory floats, quiet, like a blossom in a busy stream, and rushing around a bend, is gone.