Mount Shasta, CA, December 31, 2006: Recently, when Adrienne was writing our Christmas cards, she asked me how to spell 'Yee-HAW'. If you live in a foreign country and do not know, this is something that Texas people like to yell out; it connotes extreme enthusiasm. For example, in the movie Dr. Strangelove, when Slim Pickens rides the H-Bomb, he yells, "Yee-HAW! Yee-HAW! Yee-HAW!" This signifies his happiness in the moment.
Since Adrienne is from the East Coast, she didn't know how to spell it, and so I told her. But that got me to thinking …
Where did Yee-HAW come from?
Where did 'Yee-HAW' come from? What is its origin? Did it come down to us through the ages, or was it just something that some cowboy yelled out one day while riding a wild horse, and somehow it caught on?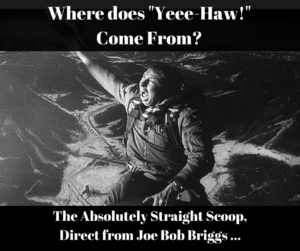 Naturally, these questions made me think of Joe Bob Briggs — the best drive-in movie reviewer in the greater Grapevine, Texas area — who is a veritable font of crucial information that we sorely need in these troubled times. If anybody would know, I reasoned, it would be Joe Bob Briggs, who is a close personal friend of mine. So I asked him.
Here is his answer …
"Yee-Haw derives from the Middle English "yee," which became "ye" by the time of the King James Bible, a formal second-person pronoun normally used only in the singular but occasionally, when conjoined with qualifiers ("ye ungodly swine"), acceptable as an adjectival plural as part of an interjection.
"The word "Haw" was a borrowing from late 10th century Hungarian, a crude epithet used by soldiers to describe a rural imbecile (possibly a distant cousin of "harrow" or "harrower," applied to those who till the soil, who were overwhelmingly illiterate in the Middle Ages).
"The words "yee" and "haw" were never used together until 1478, when a farrier in Long Sutton, among the eastern fens of Lincolnshire, was accosted by angry sugarbeet farmers whose draft animals had been quarantined by the Duke of Rutland upon pain of taxation necessary for the upkeep of Belvoir Castle. To defend himself from the angry mob, he quickly extracted iron bits from his furnace with a blacksmithing tong and hurled the fiery missiles at the luckless yeomen.
"When they began to scatter, the farrier execrated them with curses, including, at the point of his maximum excitement, "Yeeeeeeee Haaaaaaaawwww!" — the strict meaning of which would be something on the order of "you worthless lice-infested buffoons," but of course given a sanguine connotation by the fact that the farrier was exultant and triumphant."
"I thought everyone knew that." — Joe Bob Briggs, www.joebobbriggs.com
Thank you, Joe Bob. As this year winds down, as a prediction for the new year coming in, I would add only this —
Yee-HAW!