Medford, Oregon, April 7, 2014 — On this day, I am officially 70 years old, and on this day my second marketing book is available on Amazon (print and kindle editions).
What it says on the back cover —
Get Endless New Clients
"How to Build an Automatic Selling Machine to Ensure Business Growth and Cash Flow"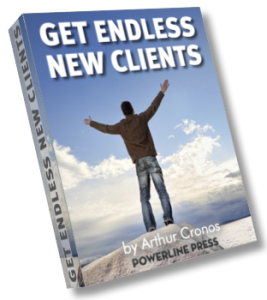 The death of a dream … and awakening …
How many men and women awoke one day with a bright dream, a dream of their own business, something they could pour their heart and soul into, something they could trust, and bring something good to the world.
And how it might grow, and the warm sensation of pride deep inside, and a hope that someday, a legacy, something to change the world, if only a little.
But slowly, the dream twisted and darkening into something ominous, deepening into worry and pain, unhappy visions of something lost, grinding down the days. You're expert at your business, so why these endless days of alarm and trouble, sleepless nights, and where did the dream go?
Perhaps you are one of them, ground into a morass of too-much work and too-little fun, and the sunshine vanished in the mist of what might have been. Struggling with cash, emergencies, and no time to think about increasing sales, more customers, if only …
Good news. At last, help has arrived, and you can remedy the slow drain, escape the struggle. Because fellow business-owner Arthur Cronos, the author of "Get Endless New Clients" is as expert at his business as you are at yours. And his business … is marketing.
That's important, for when a business struggles, it's rarely a lack of expertise. Because most entrepreneurs are brilliant at their core technology. They regularly produce excellence. But nearly all have one devastating weakness … weak marketing.
And that's because the learning curve of marketing is as steep as everything you mastered to learn your business. Few humans master both, and there's no time. The answer? Follow Arthur's method to build your own Automatic Selling System.
You no longer need neglect your business to invest thousands of hours struggling to master. Instead simply follow the step-by-step analysis and guidance given in this book. With this inside information, never published before, create and install an Automatic Selling System, a "Sales Engine," custom-designed for your specific business, to ensure Reliable Cash Flow, month after month.
–0–
It comes with a free bonus, an extensive "how-to" marketing training with articles and training webinars. It will be helpful for anyone in business. (See Amazon Listing for details.)
And yes, Happy Birthday!