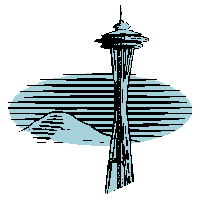 Seattle, Summer 1961: My friend Lefevre and I looked up at the towering building and gawked like hicks. Eighteen years old I was, just graduated from high school.
"Gawrsh," I said.
It was a grand adventure. The best one yet.
In study hall, while studying Life magazine, I'd seen the photographs of the Seattle World's Fair. Photographs of the towering, unique 'Space Needle'. It was far from Henrietta, Texas. It was on the West Coast, way north of fabled California, where I was born but really didn't remember
Jerry was three years older. He'd graduated earlier, an artist, and he was working at a ritzy department store in Wichita Falls, arranging their windows, and I found him in a back room, standing over an empty Coca-Cola bottle, holding an unlit cigarette four feet above the bottle.
"You see," he said, pointing to the shadow on the floor, which showed him, the bottle, and the unlit cigarette in his hand, "if you get the shadow lined up right, you can drop the cigarette into the bottle." He let go of the cigarette.
It fell four feet, and slithered into the coke bottle. As always, I was impressed. But I had bigger game on my mind.
"Do you want to go to the Seattle World's Fair this summer?" I asked.
"Sure," he said. "We'll camp out, and take v8 juice and lettuce. Just the ticket."
And so we made our plans.
We'd work through the summer — me as a laborer on a construction job, and him at the department store. We'd save our money. Then we'd pack my gray Dodge Lancer with camping gear. And we'd go.
We would drive diagonally across the country from Texas to the Northwest. We'd stay for 3-4 days. Then we'd drive down the coast and see San Francisco, and also some girl he knew in Los Angeles. I think he had a plan for that girl, but that's the one part that didn't happen.
At the end of summer, Jerry made a sign on the department store's printer that said 'Seattle or Bust.' We taped it to the back of the Dodge Lancer, where it covered 'The Spook' which I'd had painted on the car, and of which Jerry did not approve, as it just wasn't cool. We loaded the trunk with borrowed camping gear, a coleman stove and lantern, and a box with salami, instant coffee, beer, white bread, and other nutritious foods. And we went.
The second day out we arrived in Creed, Colorado, where we met up with the family of my high school sweetheart. This got us a free dinner. Having no money for hotels, we then went to find a camping spot. We'd arrived late, and had to settle for casting about for a vacant field which we found. There Jerry, rather drunk from beer, and enraged when I chided him for some disparaging remark he made about a Mexican, attempted to strangle me for a while.
It didn't seem like the best beginning, but we were very tired, and after the attempted murder we grew sleepy, and fell into drunken slumber on the seats of the car.
In the morning, we awoke to discover that we'd parked in the middle of a field belonging to a racing stable, and the jockeys were exercising horses all around us. Eschewing coffee in favor of a quick get-away, we were back on the road, and drove for several more days, to find a campground not far from the World's Fair. They had a shower. That was a good thing at this point.
At the Fair, we marveled at exhibits of blonde Danish furniture, astounding cars of the Future, and sandwiches billed as 'Mongolian Beef.' (I wondered how they got the beef here from Mongolia, and how the guys who cooked them had learned such good English.) And the next day for lunch we rode the amazing elevator to the top of the Space Needle, where a round restaurant proudly served us menus with prices to stop a young cowboy's heart. We settled on the cheapest item, a corned-beef sandwich for a resounding $4.50, stiffed the waiter, and watched the scenery.
As you probably know, the round restaurant at the top of Seattle's Space Needle has windows all around, and the entire restaurant slowly revolves, once per hour. Which means that the scenery you're looking at changes during dinner. However, I must report that it doesn't move very fast, and it doesn't take very long to eat a sandwich. So I didn't really see the scenery changing that much. I don't know why they can't just have it whirl around much faster, more like a carnival ride. Afterward, the part of the view we remembered the most was the $4.50 price for the sandwich. And it wasn't even Mongolian Beef!
In Seattle, other attractions found us. Errol Garner was playing, at the museum if I recall correctly, and I heard how he groans the melody out loud while he plays the piano. At the museum, we saw many famous and wonderful painting which I had never heard of. We also ran into a married couple that we knew slightly from Henrietta, Texas. Jerry seemed to brush them off, and we had to go do something else. Once away from them I turned.
"Why didn't you want to talk with them?" I asked. He grimaced.
"We didn't really visit with them back in Henrietta," he said, "so why should we want to stand around here?"
I had no answer for that. It seemed to me that we should have talked to them, though I don't know what we'd have said, other than exclaiming how we were both there in the Seattle museum, though obviously that part was evident immediately when we saw them. It just seems polite to say hello to people you know when you meet them 2,000 miles away from home. I'm still not quite decided on this point of etiquette.
Finally, Space Needle and sandwiches and museums exhausted, we packed our camping gear and headed down the coast. We'd brought an oversized book which claimed to show all the camping grounds in the USA, and so we were able to drive from campground to campground. And in the book we spotted a likely campground just north of San Francisco. It was called 'Bootjack Camp' and to our Texas accents it appeared to be located on Mount Tamalpish.
Arriving tired, and very late at night, and not just a little woozy from some more beer along the way, we drove up an eternally winding narrow road with a huge precipice falling away on the left. We found Bootjack Camp, but no camp sites that were actually flat, and slept on an angle in our sleeping bags beneath the trees, to awake with squirrels running noisily about and birds chirping dementedly. We brewed coffee, packed, and drove back down the road, appalled at the drop-off beside the road, falling down almost forever.
The sun was bright as we drove across the Golden Gate bridge. (It's actually red-colored, rather than gold, as I'd expected.) We speculated about the story that the engineers tried to prevent a dog or cat from walking across the suspension bridge, on the theory that the animal's regular footfalls would cause a sympathetic vibration to set up, shaking the cables loose and causing the bridge and all the cars to plummet into the sea. I thought it likely. Jerry thought not. Having thought it over since 1961, I'm inclined to believe he may have been right.
We drove from the bridge to the Marina Green, where some very fancy homes look across the tiny park into the blue of the San Francisco Bay, with Alcatraz a tiny rock far out from the shore. We looked at the ritzy houses, assuming that the houses in San Francisco were probably generally like these houses. They sure were close together, but …
"Gee," Jerry said, "The houses in San Francisco are really nice."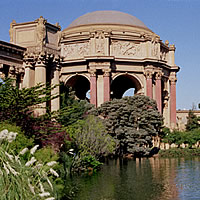 We spotted a weird building nearby, and struggling to navigate through a labyrinth of narrow streets, we arrived before it. No sign. No open entrance. Just a huge, round-domed building of a sandstone color, with elaborate two-story columns and each column with an equally tall statue of a woman in Grecian dress leaning upon the column. Before a round portico a lovely pond with swans. Not a soul in sight.
What was it? Like finding a Greek Temple in downtown Dallas. What was it's purpose? We drove around it. Something caught my eye.
"Stop the car!" I called. He did, and I popped out to run over to the building. There, at the base of the building in the bushes, I'd spotted something irregular. I ran back to the car.
"It's chicken-wire!" I said. "The whole building's a fake! It's made of paper mache or something on chicken wire! It's not a real building!"
How could such a thing be? Years later, living in San Francisco, I found out. But at the time we were stumped. It was crazy. impossible. Such a thing of beauty. Unused. Unexplained. Unreal.
According to our oversized book, there are no campgrounds in the city of San Francisco, so we had to find a hotel cheap enough, which we finally did. The Hotel Wurlitzer, just outside the Stockton tunnel which links downtown with Chinatown. After some rest, in the afternoon we walked through the tunnel to Chinatown, where we marveled at shop windows containing dried ducks and weird vegetables. Jerry spotted a woman standing at a bus stop across the way.
"There's a whore!" he whispered. "I'm going to find out how much." I tugged at his sleeve.
"How do you know?" I asked. He looked affronted.
"I can tell 'em," he said. And off he went. From my vantage point I watched. He walked up to the woman, and spoke to her. She said something and he went off around the block, arriving from the opposite direction. I looked puzzled at him.
"She told me to ask a cab-driver," he said.
He got some beer and we drank in the hotel room. I grew sleepy, and he grew adventurous and went out. In the early dawn, he returned and fell into his bed. There was a long and garbled story about his meeting up with an ex-prizefighter named Frankie and their adventures together in bars, and getting thrown off a cablecar. And then Frankie had said he knew where some prostitutes were, but they wound up in a deserted area near the wharf and Lefevre grew afraid that Frankie planned to roll him, and so Lefevre ran away, leaving Frankie standing in the empty street, calling "Jerry! Jerry!"
Unfortunately, Lefevre couldn't remember the name of our hotel. He knew it was some name like a manufacturer of cornets — Jerry had played cornet in the school band some years before — and so he spent some hours, out of cash and walking, tracking down the Hotel Conn and Hotel Selwin, and other such names.
That day, gawking in amaze at the narrow streets and steep hills and tall houses with no space between them, we drove slowly out of town and started down the coast. We ate cracked crab on a beach. We tried Buffalo Burgers at a shack along the way. We had popcorn and V8 for lunch, which is still a favorite of mine after all these years. We came in time to Los Angeles where Jerry visited the girl, but apparently his plan for her didn't work out. Just as well by me.
I was ready to go home.