Northern California, October 2011: Some folks — including some very serious physicists — think that there may exist multiple universes, perhaps an infinite number.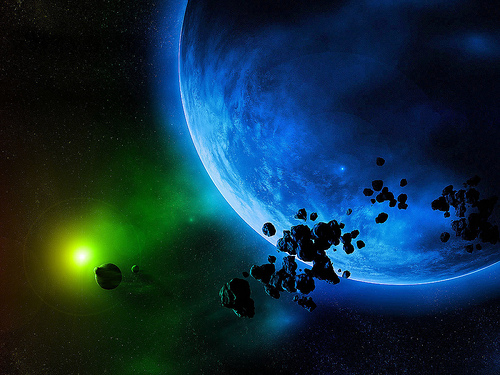 In a way, these universes may all be here in the same space, but somehow vibrating at a different rate; and if that were true it might account for some folks reports of visiting "fairyland," "hell," "captured by aliens," and other reports of non-terrestrial experiences.
According to some, and I personally suspect that it's probably true, every time in your life that you have made a decision — left or right — that the universe split into two universes, and a *you* is in each one, and in one case the *you* turned left, and in the other one the *you* turned right.
If that is true, and the number of universes is infinite, then in one universe you are the Queen of England, and in another you live below a bridge on a freeway, and another you're a movie star, and another you're on death row.
One of my most productive mental self-help methods is to (in the "imagination") walk through a doorway into another universe, where the Richard/Arthur has already solved the problem in question, and ask for advice. I call it "dimensional guidance," and it's proven to yield remarkably interesting and generally useful guidelines for solving the various problems I face.
It's fun and helpful. Go figure.