Mt. Shasta, November 23, 2012 — Nikolas and I have created a new 'text-coupon club' for local folks that live in our area, the towns of Weed, Mt. Shasta, Dunsmuir, & McCloud. Here's what the Mt. Shasta Herald sez in the newspaper —
'Siskiyou Daily Deals' rewards customers for shopping locally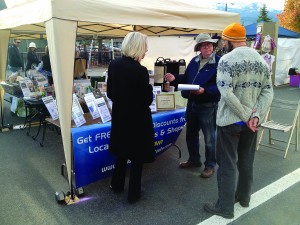 November 25, Mt. Shasta, CA– Mt. Shasta area residents can now receive exclusive discount deals from local restaurants and shops with new text-message coupon club, Siskiyou Daily Deals. Discounts and deals are sent by text message to members, who redeem their 'text coupons' at participating businesses. Anyone with a cell phone can join for free and receive fun, valuable incentives to shop and dine in Siskiyou County.
In addition to offering special discounts, over 30 local businesses have donated more than $1,000 worth of free prizes to give away, providing extra motivation for residents to subscribe. Prizewinners will be chosen at random intervals and instantly notified by text message when they win. To join, local residents can simply text 'SHASTADEALS' to (530) 419-6644, and if they ever want to opt out, they reply 'STOP' to the same number.
Siskiyou Daily Deals is a service of SweetLife Marketing Group, the new business venture of local marketing authorities, Nikolas Allen and Arthur Cronos. SweetLife ran a Siskiyou Daily Deals booth at the recent Winter Magic street fair in Mt. Shasta, where they signed up over 250 new members.
"Text messaging has become an essential part of our culture," observes Cronos. "Since nearly everyone has a cell phone, we've adapted our company's text-distribution system to create an exchange between local residents and local businesses. By supporting each other, we help our local economy prosper."
By shopping locally, residents are keeping their dollars in their own community, which supports the dreams and efforts of local entrepreneurs and shopkeepers, who in turn buy services and provide jobs. The intent is to create a win-win scenario by rewarding residents for supporting the local economy, and rewarding the businesses with more foot-traffic.
"I've heard locals complain about limited shopping options in Siskiyou County," states Nikolas Allen, co-creator of Siskiyou Daily Deals, "but racing off to Redding or Medford every time you want to go shopping is a huge expenditure of gas, money and time. We want to encourage residents to shop locally as often as possible and reward them for doing so."
A partial list of businesses who contributed prizes includes Say Cheese Pizza, Sisson Museum, Wayside Grill, Fun Factory Snowmobile Rental, Dos Geckos, Burger Express, Highland House Restaurant and The Coffee Brake in Mt. Shasta, Hi-Lo Café and Mt. Shasta Brewing Company in Weed, Brown Trout Vintage Emporium in Dunsmuir, River Lodge in McCloud, and many others. Prizes range in value from $2 'Brewery Bucks' from Dunsmuir Brewery Works, to a $252 golfing gift basket from Mt. Shasta Resort. A detailed list of prizes and exclusive discounts is available on SiskiyouDailyDeals.com
"We've been amazed and inspired by the swift and generous contributions from area business leaders," says Cronos. "Community spirit is alive and well in the Mt. Shasta area, and we're proud to offer our unique text-messaging system to connect area residents and businesses.
Potential merchants and members can visit SiskiyouDailyDeals.com for more information on how to get involved, or to sign up to receive prizes, discounts and deals.
–0–
Isn't this a well-written article in the Herald newspaper?
Majorly, cool, yes?
🙂