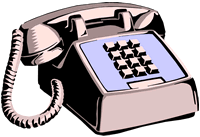 Weed, California, September 2011: I was just sitting here thinking that I really miss those days, a few years back, when live telemarketers used to call me all the time.
Because I used to have a lot of fun with them. Perhaps it is evil of me, but my theory is that if they wish to call me up with their agenda, then it should be OK for me to answer the call with *my* agenda.
Their agenda was to sell me something. And almost 100% of the time it wasn't something I needed.
My agenda was to take a break and have some fun. Here's what I learned …
How to Create Telemarketer Hell
Here's what you do: [Read more…]