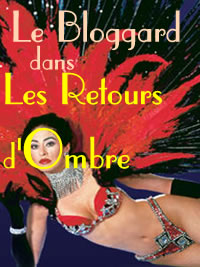 Paris, France, Today: Early in the morning, at 12:01, over a friendly glass of Cabernet in a little cafe in Montparnasse, the Bloggard has signed an Agreement in Principle with the world-famous Folies Bergere.
Assuming that all proceeds as planned, in the upcoming summer season, the Bloggard will assume the leading role of Margo Lane in the Folies Bergere all-singing, all-dancing production of "Les Retours d'Ombre."
The Bloggard reports that he is "tres jolie" about the upcoming production. No comment was forthcoming from the Folies at the Bergere.
More details to follow as they become available.