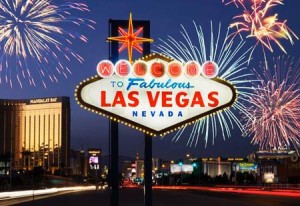 Las Vegas, November 30, 2012 — Flying from freezy weather upon the Mt. Shasta, Arthur and Susan arrived in Las Vegas, only to be assaulted with balmy weather and hundreds of gargantuan advertisements.
Not content to buy full-page spreads in local newspapers or to saturate television images with photos of affluence, long automobiles, and scantily-clad breasts and body parts, large hotels such as the MGM Grand and others sport humongous advertisements on the multi-story facades. I suppose this means that Mr. and Mrs. Struthers from Iowa City are peeking out their hotel window through the huge left eye of Kris Angel, Illusionist Extroidinaire.
Maybe.
We're hanging out with Susan's daughter Kristina, plus two highschool granddaughters 18 and 15, and Mitch, who's a regional sales manager for the Southwest for a really-slick heavy equipment manufacturer out of Europe. The granddaughters are fun, brilliant in photography and robotics, and of course the inevitable learning curve of boys, growth, and the info-dense nature of modern life, rock music, and the Vegas infotopia.
And toward the end of the day …
Evening grows beneath
fat moon beaming from orange clouds,
indigo hills lurk below.
There are many absolutely fabulous shows here, large than mere life, clubbing us with imperative summons. Like those lunatic hypnotists who scream "Relax!"
But we remain steadfast. The trip's highlight so far: We had the worlds best nap, ever.
We'd hijacked a bedroom from one of the girls, and slept like happy zombies.
This morning we foraged in the unknown kitchen, and after breakfast, I discovered that some things remain the same. Because toward the end of breakfast, Susan said, "Oh, look at that," pointing far to my left. While I'm oogling, seeing nothing unusual, she's stealing the last sips of my coffee. Ha! I'd let it go cold. Serves her right. The rewards of crime are cold.
It's still winter here, but it seems a mere technicality.
Peeking at the Mt. Shasta newspaper, I see folks back home are enjoying a day-long power outage. I'm not missing the cold and wind and freezing rain. Yet. But I reckon, in a couple more days, I will be.