[this post reprinted with permission from "MarketingOnlineClearAndSimple.com"]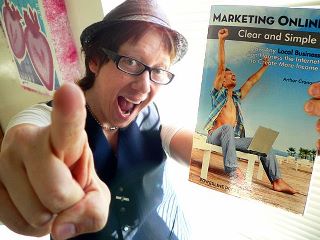 Resident of Mt. Shasta, California, local marketing heavyweight Nikolas Allen, raves about Arthur Cronos new book "Marketing Online, Clear and Simple," available now on Amazon in print and Kindle editions.
"Totally stoked," says Mr. Allen, "and ready to dig into "Marketing Online – Clear and Simple" by local author Arthur Cronos ! Thank you for the gift, Mr. CopyDragon!"
Mr. Allen, thank you and you're welcome!
–0–
Nikolas Allen (http://bamsmallbizconsulting.com) has the knack of presenting marketing how-to in a crisp and easy-to-understand fashion, and is the brains behind some of the best marketing programs currently earning money for local business owners in Northern California's Siskiyou County. His online blog is well worth regular reading for the outstanding, insider marketing content he delivers week after week.