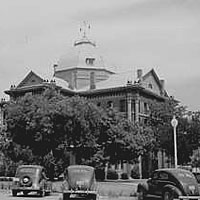 Henrietta, Texas: The Texas Department of Transportation took this photograph in 1939, but the Clay County courthouse was built in 1884, of red brick and sandstone.
One hundred and fifty years ago, the year being 1857, Clay County was separated out from Cooke County, and the new county seat was decreed to be renamed Henrietta. I don't know what it was named before that. I wasn't there, nor anyone else that I know. The accepted story when I was growing up was that the county seat was actually somewhere else, and cowboys roped the small, original courthouse building and dragged it to Henrietta.
The original courthouse had later become the original jail, and then it became the original library, and then it became … empty. When I was a child, one could see the tiny, one-room building where it sat, boards over the windows, beside the large and dank stone jailhouse. So this story must have been true, because you could see the building.
Henrietta sits along what is now U.S. Highway 287, twenty miles south of Wichita Falls. The name 'Henrietta' is sometimes attributed to Henry Clay, after whom Clay County is named, but other folks claim that it was named for his wife, whose name was Lucretia. Makes no sense either way.
But way back then, by 1860, Henrietta had grown hugely, to ten houses and a general store, and there were 107 real people and two slaves. A Post Office opened in 1862, so that these folks living on the then far western edge of civilization could send and receive letters.
The pesky Civil War broke out.
Unfortunately, the pesky Civil War broke out, the soldiers withdrew, the letters stopped, and the pesky Indians found it much easier to kill the pesky white settlers. Soon the town was abandoned, with strange Indian signs scrawled upon the walls — an early form of grafitti — though soon after, the walls were burned to the ground.
After the Civil war, a Doctor Elderidge brought a small group of settlers to attempt to rebuild the ruins, but after several folks were killed, the rest gave it up. Then a Quaker named Goodleck Koozer — no, really. Goodleck Koozer — brought his family to Henrietta ruins in 1870. He didn't carry weapons, and believed that the Indians would be kind to him if he treated them fairly.
Alas, he was sadly mistaken.
Whitehorse cared not a whit.
Later, when Clay County got organized, a grand jury was organized and indicted Whitehorse, who had killed Koozer, kidnapped his wife and daughter, and chased the son out of the county. But Whitehorse cared not a whit for the indictment, and faded into the wilderness, never to be seen again by them as lived in Henrietta.
In 1870, fifty soldiers and — the soldiers claimed — three hundred Kiowa Indians fought a battle in the ruins of Henrietta. As a child growing up there later, I never actually saw any sign of all this, but that's what they said.
Afterward, settlers began to return to Henrietta, and in 1873 the forty voters held an election in a tent, and county officials were elected. There was only one candidate for each position, so the voting was orderly, and the results uncontested.
The next year saw the re-opening of the Post Office, and I would have thought they'd be pretty busy delivering all the letters that had stacked up. Plus, by then Sears and Roebuck had been invented, so maybe there were some packages.
The railroad comes to town.
In 1882 the Fort Worth and Denver City Railway reached Henrietta, and in 1887 the Gainesville, Henrietta and Western Railway was built through the town. This line later that same year became part of the Missouri, Kansas and Texas line, and was afterward called the MKT, or "Katy" line. The Katy railroad was still running when I was a child, though by high-school years, the train had vanished, and even the tracks and ties had somehow evaporated, leaving the long right-of-way running beside the fields, empty and strange.
In the 1880's, several stagecoach lines had began running westward from Henrietta. Travelers would take the train to Henrietta and then ride a stage to their destination. In that time the community had become a buffalo-hunting center. After purchasing supplies in Henrietta, the hunters would head out, to return with wagonloads of bones and hides, for shipping out on the train, the hides to make robes and rugs, and the bones to be ground into a type of fertilizer.
The watermelon capital of the world.
When mines developed in nearby Foard County, Henrietta became the shipping point for heavy equipment. At another time, Henrietta became the watermelon capital of the world, shipping watermelons out in boxcar after boxcar. Later I saw those watermelons growing on my grandparents' farm, but somehow they'd stopped shipping them out. I don't know why. They were perfectly good watermelons.
Henrietta was incorporated in 1881. I suppose this means that, as of that date, nobody is responsible for anything. And then the courthouse was built in 1884, and in the 1890's the town had grown to 2100 real people, and no slaves, though the courthouse still had a separate bathroom marked 'colored' for the persons who were not slaves but free and equal members of society at that time.
A 400-seat opera house.
In the 1890's the town had several saloons and hotels, restaurants, and a 400-seat opera house — I cannot possibly imagine the people I knew there watching an opera; I found opera generally incomprehensible in San Francisco. Plus, opera is in Italian. Nobody in Henrietta speaks Italian; they cannot even correctly pronounce the word "Italian", even today. Something's fishy.
Henrietta had two banks, a photographer, a cigar-manufacturer, a school, a jail, plus two newspapers, five churches, a drugstore with soda fountain, and for two years, a college. I suppose everyone in town who could go to a college probably graduated, and that was that.
By the late 1930's it had grown to slightly fewer folks, but ninety businesses were running strong, including two cotton gins which shipped out 13,000 bales of cotton in 1937, plus a cottonseed oil plant, an ice plant, a hotel, four rooming houses, and two boot and leather companies. Churches had increased to seven, and there were three schools: primary school, high school, and black school.
My mother and I moved to Henrietta.
In 1944 I was born in distant California, and when my mother's marriage soon ended we moved to Henrietta, which had two movie theatres — the Dorothy and the Royal — along with two drugstores and two drygoods stores, and five grocery stores and a blacksmith, and the same courthouse, and two doctors — Dr. Greer, and my mother's brother, Dr. Hurn, behind whose office my mother and I lived in a tiny apartment.
There and on my grandparents' farm north of town we lived, and I grew and learned to run through the woods and to walk to school, and to read and write. And we moved once, and again into a little house of our own. And there were scandals and vandals, and hikes and bikes, and romance and fights, and rodeos and movie-shows and cars and a drive-in called the Lo' Boy, and high school and away to colleges, and the world grew wide.
The new highway …
In the 1970's, after I'd left, the population reached its high-water mark at 3,600, but then the new highway was run around the town instead of through it, and things dwindled. The businesses that remained manufactured travel trailers, windows, livestock feed, branding irons, and cowboy boots.
Every September the Clay County Pioneer Reunion and Rodeo is still held at Tex Rickard Stadium, named for boxing promoter George Lewis (Tex) Rickard, who was city marshal in Henrietta for many years.
Mitchell's Truck Stop moved from the old location out onto the new highway.
I moved far away.
Things change.