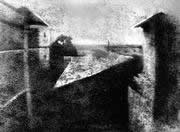 St. Loup de Varennes, France, 1826: Mr. Joseph Nicephore Niepce (Nee'-sah-for Nee'-yeps) has made a photograph: the view from an upstairs window.
Discovered in a trunk in 1952, the photo now resides in an airtight case at the University of Texas. The six inch by eight inch image is believed to be the first photograph ever made.
You are, right now, looking out a window into the year 1826.

There are no autos on the roads, no telephone lines, no electric lights in cities, no World Wars, no airplanes. Kings rule countries. The United States is a minor power only 50 years old; A year ago, John Quincy Adams was elected as our sixth President.
To make the image, Mr. Niepce used a polished plate of pewter metal, coated with a thin layer of a black, tarry substance called bitumen. Bitumen was once called "pitch", as in "pitch black", and is used these days in making asphalt.
Bitumen is light-sensitive. Ever noticed a new asphalt road is dark black and soft, but after 2-3 days it turns a pale gray and hardens? In large part, light causes this change.
Similarly, during the exposure, which may have taken up to three days, the bitumen hardened as it turned pale. Then, washing the plate with a solvent (made from oil of lavender and white petroleum) dissolved the still-soft bitumen where the shadows fell.
And presto! The view from the window.