The Panhandle of Golden Gate Park, Summer 1987: On my way back from the store I walked along the eucalyptus trees in the Panhandle. This is an arm of Golden Gate park that extends between Lyon and Fell streets, and it's a great hangout for bums, lovers, basketball players, and me.
Just ahead of me, on a bench sat a young Hispanic couple. She looked miserable, with eyes red from crying, and just as I passed their bench I heard the young man saying, "A man's gotta do what a man's gotta do."
It was so hard to keep from laughing.
And then I remembered an evening, just a few nights before …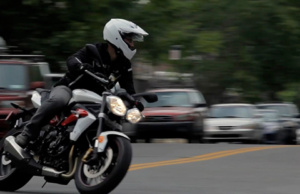 It was very late as I was returning home. On my motorcycle, in my helmet and brown jacket, I roared up the long hill on Fell street toward the Panhandle and my artsy garret on the third floor at Lyon street.
As I flew up the hill, to either side the tall San Francisco houses slid away, and to the left a young couple on the sidewalk caught my eye. I was already past them when I realized it looked like the guy was beating up the woman.
I really didn't want to get involved. For one, I was exhausted and it was late. For another, it might get me beat up. But …
"Damn, damn, damn, damn, damn!" I swore, and at the intersection, I turned my bike to circle the block. (Fell is a one-way street.) All the way around the block, I sincerely hoped that they'd be gone by the time I returned.
No such luck. They were still there. There seemed to be no fisticufs, but the guy was yelling and the woman sobbing. They were young, either Hispanic or perhaps Oriental. She was sobbing, arms clutched around her in the chill. He was loudly swearing incoherently.
My heart in my throat, I reined in my motorcycle between two parked cars and walked toward the trouble.
As I did so, I was happy to see several other people approaching. Aha! Allies! The yelling had attracted other folks, too. It wasn't just me.
"What's going on?" I said.
Stupified, the guy turned dull-eyed toward me. He was drunk. They were both drunk. He started yelling something completely incomprehensible.
At that moment, the front door of the house opened, and a very large black man in overalls came out. He was barefoot and wearing no shirt. When I say he was a big man, I mean he was a very, very, very big man.
He paused on the stoop. "What's all the ruckus?" he demanded.
El Stupido the boyfriend turned toward the big man and opened his mouth.
The large black man took his hand out of his pocket. There, looking very small in his huge hand, was a shiny chrome pistol.
El Stupido the boyfriend shut his mouth.
The black man glared at all of us.
"All of you," he said. "Get out of here."
I delayed not. "So long," I said.
Back on my motorcycle, zooming up Fell Street, I thought to myself, "A man's gotta do what a man's gotta do."