San Francisco, January 1974: I've received a letter from my
little brother David
(15) in Henrietta Texas. It is (badly) typewritten, with many strike-outs. It says …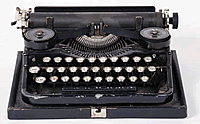 Dear Richard,
I have written you because I should.
I typed this letter because I felt that you could not read my writting. Donot laugh at my spelling or my toping. I used your typewritter (I did not think that you would mind, DO YOU)?
I have a thing against long letters. In your letter to MOM you spelled TEXAS TLxas. Uncle Richard is coming to see us, and my motorcycle is O.K..I'm fine. I think MOM says HI and sends her LOVE. Are you O.K..
I HAVE WRITTEN THIS LETTER LIKE WILMA WOULD.
DAVIS S. (Your Not So Good Brother)
P.S. Kitty says HI. and MOM is leaving for Europe in MARCH